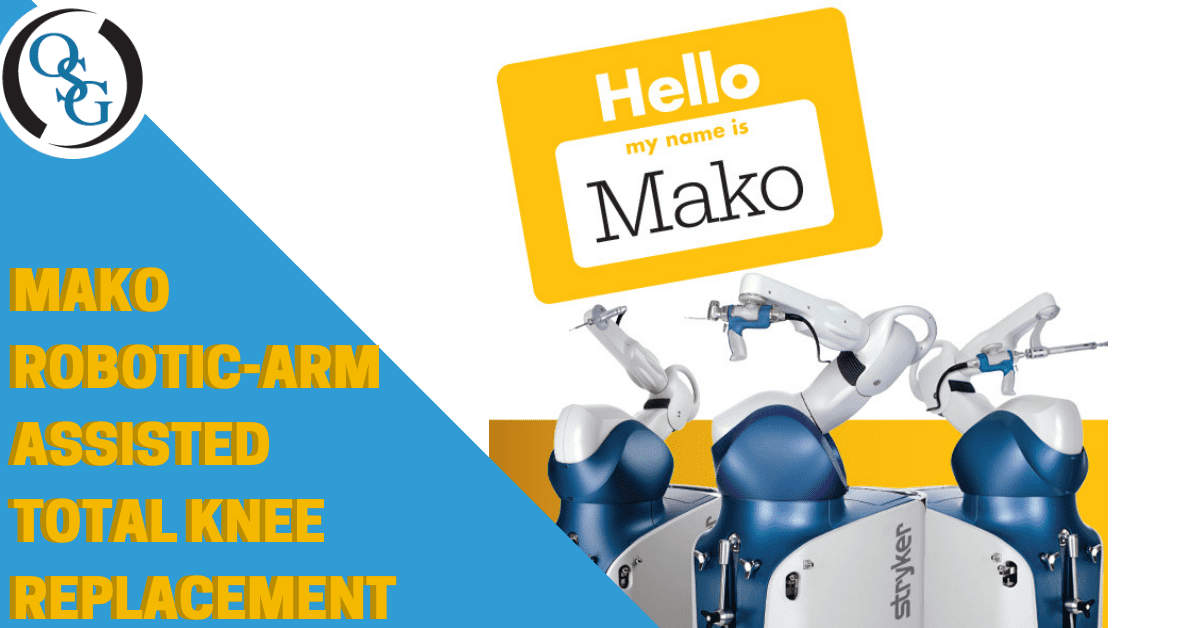 At Orthopaedic Speciality Group, we know that no universal solution exists to fix every person's joint pain. Therefore, we take a personalized approach to each of our patient's procedures and care plans. If you suffer from a knee injury or arthritis-related pain and haven't experienced relief from your pain, it might be time to take the next steps towards a knee replacement with the Mako Robotic-Arm. 
The Mako Total Knee Procedure
The Mako Robotic-Arm System is a more precise way for doctors to operate. Your orthopedic surgeon can guide the arm during surgery with ease, strategically position implants, and make adjustments to your plan during surgery as needed.
With the Mako Total Knee replacement, the entire knee joint is replaced and your surgeon will insert a Triathlon Total Knee implant. Triathlon knee replacements are designed to work with the body to promote natural-like movement
The Mako Total Knee is an option for patients with:
Severe knee pain or stiffness resulting from osteoarthritis, rheumatoid arthritis, noninflammatory degenerative joint disease, and other conditions.
Those who haven't experienced adequate relief from other treatment options, such as bracing or medications.
How the Procedure Works
First, A CT scan of the knee is taken and is uploaded into the Mako System software, forming a 3D model of your knee. This model is then used to plan your surgery and assist your surgeon in performing your replacement.
Next, your surgeon will follow your personalized surgical plan to prepare the bone for the new implant. Operating in a pre-defined area, your surgeon will utilize the Mako System to stay within the planned boundaries. These are set up according to your pre-operative plan. The Mako Robotic-Arm will be guided by your surgeon to remove any diseased bone and cartilage. 
Finally, after surgery, your surgeon, nurses and physical therapists will work with you to set goals to get you back up and moving. They'll closely monitor your progress and may review an x-ray of your new knee with you.
Mako Total knee technology has demonstrated the accurate placement of implants, as well as the protection of soft tissue ligaments that surround the knee in various medical studies.
Mako Total Knee Replacements at OSG
Orthopaedic Speciality Group's own Dr. Malin uses the Mako Robotic arm for total knee replacements.
OSG's own Dr. Joel W. Malin uses the Mako Robotic arm for his total knee replacement surgeries. Dr. Malin has participated in numerous research endeavors throughout his career. He enjoys enhancing his medical and surgical education. This allows him to remain up-to-date with modern technologies and progressive techniques. 

If you suffer from joint pain, help is available at Orthopaedic Specialty Group. We have four convenient locations throughout Fairfield County and two urgent care centers. OSG is there when you need us, where you need us. To learn more about the Mako Total Knee replacement or to schedule an appointment, contact us today. Call (203) 337-2600 to schedule an appointment or contact us online.