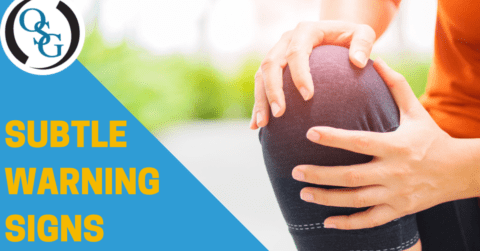 Those little aches and pains might feel like a regular part of aging, but when combined with other symptoms — they could be a sign of something more. As we get older, so do our bones, and though getting out of bed might come with a few moans and groans, it can also be a warning sign of other disorders such as Rheumatoid Arthritis (RA).
So the next time you are feeling a little stiff, feverish or are dealing with sudden swelling; here's why you might want to call your doctor:
Fever. A low-grade fever, along with swelling and stiffness can be a very early warning sign of Rheumatoid Arthritis. However, if your temperature reaches over 100 degrees Fahrenheit, it's most likely another form of illness.
Fatigue. In most cases, fatigue is the very first symptom in RA and can often be felt days or weeks before signs and pain kicks in. If you are so tired that it's affecting your overall lifestyle and happiness, it's time to visit your doctor. 
Increased Stiffness. Stiffness is one symptom that can slowly increase with time. Short flare-ups can happen early on, making it easy to ignore. If you are noticing increase stiffness in your fingers, that lasts a few days; RA could be the cause.
Swelling. One of the most common red flags that you are suffering from RA is swelling and warmth. Swelling is another symptom that will progress with time and often starts in the smaller joints. Flare-ups will last longer and be more apparent with time but catching it early is critical.
Are you experiencing joint pain? Treatment is available from the doctors at Orthopaedic Specialty Group. With six convenient locations throughout Fairfield County, help is never far away. Request an appointment online, or give us a call at (203) 337-2600.