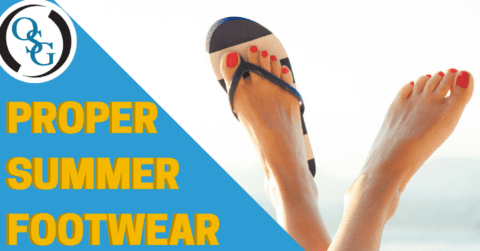 As summer activity increases, our choices of footwear can often go from comfortable and supportive to easy and accessible. As the oh-s0-popular rubber flip-flops, or the occasional bare feet may be your go-to choices; you'll want to be mindful of the effects they have on your body.
As you begin to build your summer wardrobe, and spend many of your days in the yard and at the beach, here are a few ways to adequately protect yourself from an unnecessary foot or spine injury:
Be Careful When Going Barefoot
Going from the pool to the house can seem like a shoeless job — but wet feet, pavement, and grass can be a recipe for disaster. Teach your kids to walk not run when they are barefoot and try to keep an open eye out for any branches or summer hazards that could lead to a slip or fall.
The Downside to Flip-flops
When it does come time to pick out your summer flip-flops, remember, you get what you pay for! Cheap, flimsy, and flat sandals offer little to no support, flattening your feet and increasing your chance of fall. Beyond the likelihood of an accident, with extensive wear — the wrong flip-flop choice can lead you to foot, spine, hip and joint pain down the road.
What to Look For
Always look for sandals made with a supportive arch. You'll want to be sure the pair is not flat to the ground and provides proper cushioning for your joints. A good pair will provide foot protection, is the appropriate size and won't lead to excess rubbing.
OSG is southern Connecticut's largest and most experienced orthopedic practice. Our team of licensed physicians offer a comprehensive range of treatments designed to fix virtually any bone or joint in your body. With six convenient locations throughout Fairfield County, help is never far away. Request an appointment online, or call (203) 337-2600