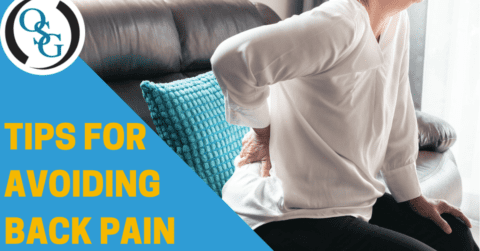 Family, friends, and feasting might describe your regular holiday activities, but ache and chronic back pain shouldn't. With all the extra activity and stressors of the holiday season, it can be quite common for people to put their safety and health aside and overload themselves.
With all the parties, get-togethers and preparation, it's vital that you pay attention to your body and give it the TLC it needs to get you through the rest of the winter. So here are a few ways to keep your holiday back pain-free:

Don't Over Buy. Whether you're hosting or bringing your famous side dish, don't spend too long at your local market. The more time you spend on your feet, the more stress it places on your back.  When it comes to bringing in your groceries, don't be ashamed to ask for help or bring them in, in small doses.

Cook In Stages. To not overexert yourself, prepare meals ahead of time. Spending the whole day over a stove can leave you spending the rest of the day laid up in bed. Instead, begin preparing meals a day or so ahead so you can reheat when needed. If it seems like a big task to tackle, don't be afraid to ask your family for help. Making it a potluck will alleviate your cooking load and allow you to rest up so you can fully enjoy your company.

Don't Over Do It. Your to-do list might be growing longer and longer, but don't let it lead to an injury! Instead, prioritize and do chores and tasks in small bursts. Just remember to listen to your body and rest when needed.

Go For A Walk. After the feasting and catching up, why not talk to your family about going for a nice walk? Not only will it help burn off some of that delicious holiday food, but it can help loosen up your back and get your body moving. Just remember to walk at a slow pace, wear proper shoes, and bundle up!
At Orthopaedic Specialty Group, we offer a wide variety of treatments to help our patients deal with conditions such as rheumatoid arthritis, chronic pain, sports injuries, and more. Contact us today to schedule your appointment (203) 337-2600!