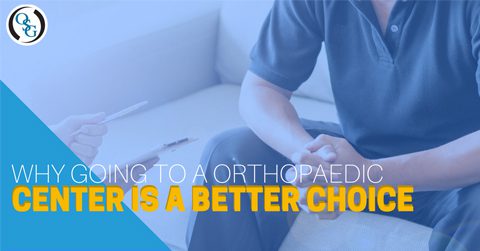 Maybe your back is sore, or maybe your joints are giving you issues. Regardless of your source of pain, Orthopaedic Specialty Group may be the best option for dealing with your aches and pains.
Orthopaedic Specialty Group Is Equipped for Orthopaedic Injuries
The Orthopaedic Service Center is equipped with the best technology and techniques for dealing with musculoskeletal injuries. While a hospital can deal with minor orthopaedic injuries, our facilities are dedicated to treating only musculoskeletal injuries. Our staff works exclusively with patients who are struggling with orthopaedic injuries, and our specialty (hence the name!) lies in addressing these issues. Why pick a generic hospital for treatment when we purposefully tailor our treatment center for your specific injuries?
Orthopaedic Specialty Group Can Be Cheaper Than the Hospital
When determining hospital bill charges, there are a large number of unforeseen variables that will affect your final charge. Many people are annoyed with the large number of hospital charges that are seemingly inconsistent with the general price of goods or services. With Orthopaedic Specialty Group, our costs are clear and straightforward when compared to hospital charges. Additionally, we accept a large number of insurances and we can work with workers' compensation claims if you were injured while on the job.
Orthopaedic Specialty Group Has More Time For You
Our group of professionals is dedicated to orthopaedic injuries, which means we have more time for our patients. When using our group, your needs will be met promptly and with a personal touch. We have the time and the energy to treat you as a person while we treat your injury!
If you aren't convinced, contact our group now to get in touch with one of our specialists! See why our patients stick with our treatment center for musculoskeletal injuries!